1952-Present
The Early Cold War Years:
The "Moose" was reactivated on March 11,1954 in North Bay Ontario,flying the CF-100 aircraft and was designated "419 All Weather Fighter Squadron". In June 1955, the moosemen were awarded "Steinhardt Torphy" for being the most efficient squadron in the Air Defence Command.

In 1957, 419 moved to 4(F) Wing Baden-Soellingen,Germany, becoming an integral part of our NATO force in Europe. The "Moose Squadron" once again served the country well,earning recognition throughout its tour in Germany. On December 31st 1962 the squadron was disbanded for a second time.
The Later years of the Cold war:
On November 1,1975,419 was officially returned to active service and redesignated "419 Tactical Fighter Training Squadron,"flying the canadian built CF-5 Freedom Fighter. Under the command of LCOL. A.C. Brown, the primary task became basic training for tactical fighter pilots.the first course commenced training in January of 1976,and in those days graduates proceeded onto a variety of fighter aircraft such as the CF-104,CF-101, and, of course, operational CF-5 squadrons.

Not all the 419 flying was dedicated to the students.Staff pilots and support personnel were given the opportunity to participate in dissimilar Air Combat Training in the United States and tactical excercises such as "Maple Flag" held in Cold Lake.

419 pilots and maintenance personnel faced new challenges with the arrival of the Avionics Update(AUP)for the CF-5 aircraft from BRISTOL AEROSPACE.The update included a Heads Up Display(HUD),Inertial Navigation System(INS),radar altimeter,and an Instrument Landing System(ILS).This helped the 419 better prepare fighter pilots for the sophisticated CF-18.The 419 was disbanded for a thrid time on June 25,1995.
The Present: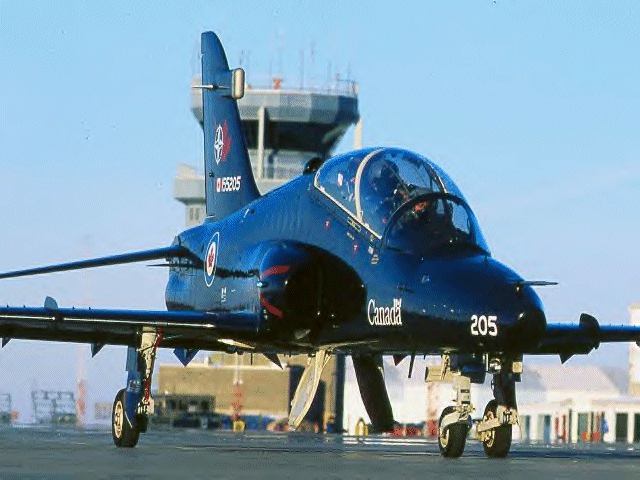 On July 28,2000, 419 Squadron was stood up again after 5 years, under the command of LCOL. Steve Hill 419 will play an integral role in the newly established NATO Flying Training in Canada(NTFC).

Students in NTFC(Jet Training) will intially fly the CT-155 Hawk at 15 Wing Moose Jaw before moving to 4 Wing at Cold Lake.

At 419 Squadron, students will continue flying the CT-155 Hawk in the Fighter Lead-in program prior to joining the 410 Tactical Fighter Operational Training Squadron,also at 4 Wing,for intial training on the CF-18. The first student pilots to undergo this innovative new program will begin their training April 9,2001. The Facilities at the Squadron will include new Hangar space that will house 8-10 British Aerospace Hawk 115 aircraft and a simulator.
419th Tactical Fighter Squadron