Here you'll find out what the Squadron Badges mean and why they were chosen.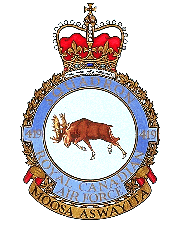 419 Badge
A Moose attacking,representing the Squadron's nickname,is a fierce fighter indigenous to Canada.
425 Badge
The badge is derived from the Squadron nickname "Alouette',and the motto comes from the refrain of the French Canadian folk song. The Lark is shown in the hovering position indicative of a bomber over the target about to strike.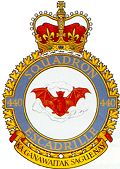 440 Badge
It's badge, a bat in front of clouds.The Bat is suggestive of night flying and the use of radar,and the cloud conditions of poor visibility.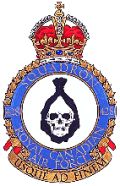 428 Badge
It's badge,in a shroud,is Death's Head.The badge refers to the Squadron "Ghost" designation through many hours of night bombings operations,and also the death and destruction which it carried to the enemy.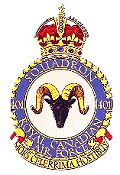 401 Badge
It's badge,a Rocky Mountain sheep's head.The Mountain Sheep is known for it stamina and fighting power and is indigenous to the Rocky Mountain region of Canada